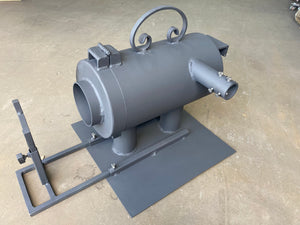 Hightemptools
Forge
Regular price
$510.00
$0.00
Unit price
per
8" diameter x 13" Long Horizontal Tube Forge with Forced Air or Venturi Burner


The horizontal forge is a popular configuration due to the longer heat chamber, which simplifies the heat treating process somewhat for longer work pieces. The only real pitfall to the horizontal forge configuration is the inevitable hot spot created at the entry point of the burner. Our particular forge design helps to eliminate the hot spot as much as possible. With the angle of the burner entry port and the position of the workpiece in the forge chamber, we have minimized this problem to a great degree and have created a forge with an efficient and very robust design.

This forge comes complete with all lining materials needed as well as a flux resistant coating for the floor to aid in protecting your forge liner from flux damage when forge welding. The forge is pretty much plug-n-play as far as use goes once the liner is installed. The Forced Air or Venturi burner, propane regulator, and all propane connections are also included for connecting to your propane bottle. With insulation in place, the forge chamber has a dimension of 6" diameter by 11" long. 

You can use this forge for general forging work, or for forge welding large billets of Damascus steel, or large pieces of cable Damascus, this forge will easily reach forge welding temperatures with the Venturi burner option and your only real limit regarding temperature (above forge welding temps!) with the Forced Air burner option is the size of the blower you put on this forge! The front of the forge features a 4" diameter opening built around a hinged door to allow easy access to the full width of the interior for larger pieces and for relining. The rear is also a 4" diameter opening and comes with tracks which hold a brick in place and will allow you to close the back of the forge down when you don't need a pass through opening. This forge also comes with a Thermocouple port that will allow you to easily install your thermocouple for precise measurement of the temperature for critical heat treating operations. Finally, the current models come with a robust, adjustable work rest for holding your work piece off of the front of the forge.

This forge makes a great portable forge for demonstration purposes, yet is a robust enough design to allow for day to day production work and will become the centerpiece of your forging operations. If you want a tool that is built to last, the Ellis 8-HT will last a lifetime.!
---